Thanks to MrsAnswer for this week's blog title, I dig it a lot. Since I'm an admitted wrestling geek who follows it way too much, MrsAnswer thought this was fitting when she saw my name and then put that connection to it one day. As usual, we like when the readers submit things for the blog to give us some ideas. If you're not a wrestling fan, and that's basically all of you, then just keep reading and forget what I just said there.
Well well well, it's been a while and I know that. We're ready to rock and now that I'm back to work, it's time for a different schedule. I'm pumped to have things cool off a bit, but it still doesn't seem like anything is cooling considering it's early August. This is the earlier I've went to work in the year, but no complaints. I like my job a lot actually, minus waking up early, but if that's my only problem, then I have it made in the shade. TheAnswer said the other day that "I'm about ready for a trip to the Madhouse of Bird33". You can visit him at
http://www.twitter.com/TheAnswer310
. When people speak, I have to pay attention because this has been a drought. What does this blog have in store for everyone? You get another beach trip rundown, a movie review, flag football, CD reviews, fantasy football, dirty boardwalk time, and who knows what else is gonna go down. With that said, let's get right to it.
I must be a beach bum this year because this is the first time I've ever made two trips during the same summer. Back to Ocean City, Maryland it was. You really can't beat the drive there. 6-6½ hours is all it takes, so you're not miserable driving that distance. Plus, I'm a big fan of OC's setup and know my way around there well, so it's a winning choice and I recommend it if you've never been. For what it's worth, Cork says it is his favorite beach. Along for the ride on this trip was Whitney as it was just the two of us. I did the driving and don't really mind doing that for road trips. It's easier to ride, but I made it safe and sound. Whitney either trusts my driving by now or just accepts that I'll never be great at it, so she's locked in.
Riding along was of course our boy
TomTom
and
Sirius
radio. We had a nice mix of radio on the way down and back home. I got a big dose of my rap in, you know I need that on my road trips or I might not be able to function, Hip Hop Nation 40 and Shade 45 to be exact. Also in the rotation was Sirius Hits 1, which is a Top 40 type station. We even threw in some of The Highway in there, channel 60, country redneck style. Yes, I know I don't do hardly any of that, but some I can handle for periods, no biggie there.
As a side fact, it probably wasn't the safest thing that I brought wrestling DVDs along for the ride for when Whitney would fall asleep, but I was prepared. These were the documentary pieces more so than actual matches, so that made the drive safer than the alternative. One of my favorite wrestling DVDs of all time is
The Rise and Fall of ECW
. I'm obsessed by the original
ECW
as most know and it's probably my favorite period of wrestling ever, both to attend and watch. I watched all of it on the drive down. One of Cork's tweets while I was making the drive was this gem: "it scares me that you are driving and texting AND watching a dvd, hah". To visit Cork's
Twitter
, here you go:
http://twitter.com/corkzillaWVU
. On the way back home, I watched
Straight Shootin' with Ron Killings
, the artist known now as R-Truth. Probably not the safest thing to play with your phone while driving and watching DVDs, but there ya go, it made for nice drives. Plus the road trip I had random tweets and pics added on out of pure boredom:
http://twitter.com/Bird33WV
. Seeing a trend with all of these
Twitter
plugs? That's what I do.
Also along the way, it's never a bad time to do the license plate game on a road trip. It's simple and something about it, even if it is pointless, gets me interested every single time. I found a good app on my phone for it, so that was just an excuse for me to use it on the setup. The total number up and back that I counted ended up being 30 total states. This thing doesn't have Canadian provinces listed, but I did see some of those of course. Everyone has a different style with this it seems, so here's the deal and it might create some discussion. When you are on a trip, do parked cars count? I've heard both opinions on this, but I personally count the parked action too. Ozzie, I know agrees with me on this. The way I look at it, the obscure states are tough to find anyways, so you have to go that extra effort, even looking when you're not in the ride. Some of my favorites on this trip included: Colorado, Maine (Blahah territory), Minnesota, and Washington (Wilbur style). Hawaii was nowhere to be found, imagine that.
The weather on this trip was downright amazing. Once again, like the trip I had to OC a few weeks before this one, we had zero rain during the daytime. That's the most important time for the beach obviously, so we were out there doing our thing with no worries of rain. As Walz would say on his tweets, we showed the waves who was boss. Check out Walz's stuff at
http://www.twitter.com/MWALZ9
. I like cooler water, but this week seemed much cooler than the other recent trip I made. I liked it though, but one day a lifeguard said the water was 66 degrees. I believed it too, but it didn't keep us out of it by any means. The day after that, things warmed up in the water and it was fine. Cool, verging on cold, but that's definitely more refreshing than pool water that is as warm as wizz or however the saying goes.
Josh and Cill came down the day after we got there and stayed in the same hotel. We got to hang with them on the beach everyday and hit up some places with them at night. It worked out great and we had a blast with those two, so no complaints here. One of my favorite things to do at the beach is just to people watch on the boardwalk. Luckily, we were right on the boardwalk this time. Neither of us had ever stayed on the boardwalk before, so we were down to try it out. The place we stayed at I'd highly recommend.
Safari Motel
on 13th Street, it's oceanfront and was super clean. The staff went out of their way to make sure we had a great stay. If you know of OC, we were at the place with the infamous gorilla on the 4th floor balcony. That's the floor we stayed on, so that's the balcony we got to rock and people watch. We didn't see Ronnie roid rage and claim out, "One shot kid! One shot!", but it was still an entertaining experience. Speaking of the
Shore
clan, when we had our
Shore
shirts on one day, so many people kept asking us if we were from Jersey. You couldn't tell we sounded like hicks? Who knows, but we got a kick out of that.
I'll end with eats and I'm always down for some quality eating. As usual on this trip, I had to hit up my favorite place there,
The Bonfire
. I've talked about that before. Another place we enjoyed was
Yokozuna
, not to be confused with the former
WWE Champion
, rest in peace. This was a sushi house and all four of us hit this one up. The prices really weren't that much crazier than home, and I've quickly turned into a big sushi fan. This place is at the
Gold Coast Mall
, 114th Street. I'd recommend each of these. Those were my big two places, but we didn't have any bad food the entire stay. Thanks to Whitney's Grandma Lil, she loaded us up with tons of homemade pepperoni rolls. That was our beach food everyday and we could've sold those things down there and made a killing. The fellow West Virginians know what I'm talking about there. Mix all of that in with some dirty, greasy boardwalk food and you feel like a fat boy. Big props to
Candy Kitchen
. These stores are like a
Waffle House
in the south, you see them every two steps. Between the four of us, they loaded up on business that we gave them on the trip. Candy is one of my weaknesses, but I could have more addicting vices.
Movie time and this week we feature
Charlie St Cloud
. Yes, not a typical blood and guts guy movie, but I was down, so I went to see the action with Whitney. I wasn't sure if it'd be much of a movie or not, but you never know till you give it a try. Surprisingly, it ended up being a good movie. It was a very slow movie as far as movement, but that was probably my only complaint. The first part could've been a little shorter, but the last half hour was great. I'll warn people that it's a tearjerker, so this one may test your abilities to hold it in.
IMDB
at the moment has it at a rough 4.8. Dang, hard judges out there! Aside from Efron as the main star for the reason the chicks want to go see it, you also had Ray Liotta and Kim Basinger as other names. I also was surprised at Efron's age. Dude is gonna be 23 in October. My final grade? I'm dropping a big 7.7 on your heads for this movie, it's a good watch.
Football is here, so I'm going to break things down into several subtopics. First, we'll tackle (no pun intended) some flag style. That's right, the
Shinnston Flag Football League
returns! For those in the league last year, you know it was a great time. Plus, we also did our thing on the website as well as the message board. I'm all about message board ramblings, so that has me written all over it. This season, I signed my contract with the Gypsy Hill Giants. You can't go wrong with a team based out of Gypsy Hill, that equals toughness times twenty. The G-Men have a solid roster forming, so it should be a fun year. I played for the Green Machine last season. We had some crazy athleticism out there, at one point having the most college athletes, but it didn't mesh well and we got rocked, I won't lie. The crew we have this year, I'm just as excited about. Myself personally, I'm just ready to rock out some secondary play. This old man still has his quickness and endurance, hopefully that sticks with me for a bit longer. It's always fun to see who has zero cardio shape, even though they may have the athleticism, this league will test those types. I like playing defense much more than offense. It's definitely a speed game, but our lineman aren't left out in the hunt. If you want to get in the trenches, these guys are bringing some serious punishment. They literally get to bust each other up and blood will be a flying. Hopefully this year doesn't have many injuries because last season had quite a few, namely Big E Ferris' ACL tearing which was rough to see in person. Most of you have seen updated through
Facebook
already thanks to my posts and Commissioner Bart doing his thing, but I'll be sure to provide commentary as we go. Tickets are already on sale now. Come see the games at Lumberport Middle School's football field, it's Timbertown ready. Visit the league website at https://sites.google.com/site/shinnstonflagfootballleague and our message board at http://shinnstonflagleague.proboards.com. If that's not enough, we even have a
Twitter
at
http://www.twitter.com/SFLTweet2010
.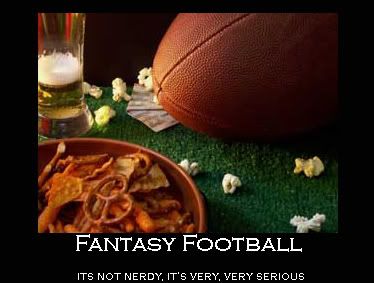 Speaking of football, let's now focus on fantasy football. This year I'm going to be in three fantasy leagues. I don't like being in a ton, that way you can give focus to just a few and really concentrate. The guys that end up doing that, in my opinion, don't put as much effort into the individual league if it's too much to handle. On the
NFL
side of things, I'm in the infamous
A#FL
that consists of 18 of the internet's finest. This is ran by Commish Uncle Wilbur as he's one of the quality people out there. Wilbur is also a regular reader and contributor to this very blog, so it's much appreciated. That league is already drafted and I'll post my roster in a second, not that you care. The second league I'm in is
Shinnston Fantasy Football
. Our draft for that is on Monday, September 6th. This is a super rare case that I won't be watching wrestling live as it happens. I know, shocker to anyone who knows me. Life isn't easy sometimes, but we all have sacrifices to make. That is a 10-man league and we draft that one in person, ran by Commish Sweet P.
To give a rundown of
A#FL
, here is your list of internet celebrities and local legends making up this beast of a crew. In no particular order, we have Kasher (Canada), Neon (Canada), TMac (Canada), Blahah the Great (Maine), Trev (WV), Posey (WV), Duce (Philly), Cork (WV), MrsAnswer (PA, formerly Vegas), The_Freak (MD), Don-G (Canada), TheAnswer (PA, formerly Vegas), Walz (WV), Wilbur (the state of Washington), DerekHood (Arkansas), Bono (Houston), Corndog (WV), and myself. We always joke that our online leagues are West Virginia and Canadian dudes, mixed in with people from all areas scattered in between. Also, our leagues are competitive, so you better be on top of your game to win these things, it's not for the weak at heart.
And now.. yourrrr 2010 Cincinnati Celtics! Yes, the
A#FL
comes from the AFL and our team names are based on former
AFL
league teams. I knew you were wondering. Remember, it's a deep league so you gotta dig after a while late in the rounds to show you know your stuff in order to succeed. The third league I'm in is our college keeper league and it's pretty intense.
Duce Heisman Trophy League
is what that one runs as, but I'll talk about that at a later time. Anywhere, here are your Celts!
QB: Tom Brady - New England (keeper from 2009-2010)
QB: Matt Leinart - Arizona
QB: Jimmy Clausen - Carolina
RB: Beanie Wells - Arizona (keeper)
RB: Matt Forte - Chicago (keeper)
RB: Marshawn Lynch - Buffalo
RB: Glen Coffee - San Francisco (retired at age 23?!)
WR: Mike Sims-Walker - Jacksonville
WR: TJ Houshmanzadeh - Seattle
WR: Demaryius Thomas - Denver
WR: Brandon Gibson - St Louis
TE: Kellen "Soldjah" Winslow - Tampa Bay
TE: Anthony Fasano - Miami
K: Stephen Gostkowski - New England
D: Tampa Bay
You want a few CD reviews? Ok, since you asked nicely, here you go..
Eminem:
Recovery
. This couldn't possibly be any worse than Em's last release. His last one, we'll pretend that one didn't even exist. Now he's back with a vengeance and this one is impressive in my mind. Lyrically, Em speaks it this time instead of going with the comedy route and tells a good story on his recovery. I'm not sure there's any I disliked much on this, so you can't go wrong. Ones to get are
Talkin' 2 Myself
,
Going Through Changes
which features a mix of Ozzy,
No Love
with Lil Wayne, and a slow down with Rihanna that has been relased,
Love The Way You Lie
. We're giving this two thumbs up, a nice "recovery" from that last CD which was garbage.
Nas & Damian Marley:
Distant Relatives
. Going into getting this CD, I was confused at this mix of talent. I'll be honest, I know basically nothing on Damian Marley other than who he is and having heard just a few songs. Nas on the other hand, one of the best that has done it if you ask me. Apparently from the Damian fans, he's solid too. It seems like a weird concept on paper, but it actually worked very well. I enjoyed this change of pace here and they fit in together. How about trying to find
Leaders
,
As We Enter
, and
Count Your Blessings
. Nas kills it on his verses of
Count Your Blessings
.
Rick Ross:
Teflon Don
. This is solid here, although I've heard some of my buddies say he comes off too soft in this one. He's cheesy, but plays his "character" great I think, even if he's been called out for it numerous times. I still like his jams. Every song features someone with him, so not sure how I totally feel about that, but it works for the most part on this album. Who is on this to give some examples? Jay-Z, T.I., Gucci Mane, Jadakiss, Kanye, Cee-Lo, Ne-Yo, Trey Songz, Diddy, Styles P, Drake, and Raphael Saadiq. That's power. Ones I like best on this are:
Tears of Joy
with Cee-Lo,
Live Fast, Die Young
featuring Kanye,
Free Mason
with Jay-Z, and the banger known as
Blowin' Money Fast
that you've all heard with Styles P, "I think I'm big Meech Larry Hoover, whipping work, halleujah.."
Bird's Video Moment of the Week
: We go to DerekHood for this week's submission. If you're an internet freak, you're familiar with the "no homo" comment and how you use that line. If you're not, then maybe this video won't be as funny to you, but this one goes with the "no racial". Good stuff.
3 Quick Thangs
:
1. Did you know that Brett Favre cooked honey chicken tonight? Did you know he tied his shoes four minutes ago? Did you know he sat on his couch? I crack up how
ESPN
reports every single move this guy does and I'm a person that doesn't mind Favre. Corndog is pumped up though like no other. I think the old man still has game left, just don't update me every 2.3 seconds.
2. Polls show that 40% of dog and cat owners carry a picture of their pet in their wallet.. In Los Angeles, there are more cars than people.. An average person laughs 15 times per day.
3. Did You Know? In the epic movie
Scarface
, the f-bomb is thrown a total of 207 times. That's an average of 1.22 per minute. And my theory as always here? The censored version of
Scarface
and uncensored versions are two completely different things. The censored version doesn't exist to me.