Here we go again. What will go down in this issue?
Real World
, wrestling, music,
MTV Sunday Stew
, the
NBA Draft
, and whatever else I feel like talking about. Now I have to decide which order I should put it in so I won't lose anyone early on in the reading. Oh well, let's give this a try..
Remember all of the drama from
Real World Austin
last week? This week wasn't nearly as good on the drama scale, but we still have things that must be talked about. The crew gets their job assignment and that is to do a 15-minute documentary on a local music festival. But that's nothing to make mention of. What you want to know is about all the drama from your baby mamas. Mel and her man split up and she breaks down and goes insane. Note to self, no matter how good a chick looks, if she has major issues, she gets crossed off my list. She freaks and then goes after the guy she really wants and that is Danny. Danny gets surgery next week on his mangled eye and he uses that to hook up with Mel. She stays in bed with him one night as the rest of the members go out partying like rock stars. By the way, Lacey's hair is pathetic and she's even a hairdresser. I don't get it. Next week we see that Wes wants some off of Jo, but gets shot down. He gets fired up and says if she wants to play games, he can play them better. Maybe she'll throw some bows at him. Just give me the action on TV.
Many of you watch
MTV's Sunday Stew
? I'm big into it for the most part. Well, for two shows I am anyways.
Pimp My Ride
and
Punk'd
are cool shows, but I don't have a seizure waiting for them to come on.
Bam
I'm a big fan of and they moved the time this year for his show to 9:30 instead of 10:30. I didn't know that at the time and set my VCR for 9:40 or so. I missed the first 10 minutes, but no biggie. The things I liked about this episode was of Don Vito getting waxed in Brazil and then at home, Deco turns Bam Land into Brazil for Ape and Phil since they didn't go to Brazil with everyone else. I saw Seasons 2 and 3 on DVD today at
Target
for $33, while Season One is $20. Better load up on the new ones if you already haven't Susie.
The second is a new show that is on at 10:30,
The Andy Milonakis Show
. The internet fans will know this kid simply as Crispy. We've all seen his raps and this kid is just totally crazy. I want to watch every week just to see what he does next. One segment this week had Crispy eating
Fruity Pebbles
with Lil Jon. Lil Jon eats it out of his pimp cup and then spits it in Crispy's face because he was annoying. Then to make Crispy feel better, he pulls him into the TV from his living room and lets him be part of their video. Funny seeing him computer enhanced out there with Lil Jon and his crew. Guess you had to see it to know how funny it is, so you best tune in on Sunday. Still the best part of the show is the rapping that Milonakis does. Some funny funny stuff.
RAW
time as there were a lot of big things that went down. First, we had Big Show (ugh) and Rob Van Dam (my boy) transfer over from
SmackDown
. I'm huge on RVD coming over, but everyone that knows me figured I'd like that one. Hopefully that knee heals up soon. Then we had Angle taking on Flair. This match was a fun one to watch and Flair has some big respect for Angle. He even goes as far to say that Angle has potential to be the best of all time as he wrote that in his book. I can't see Angle staying in the game as an old man, but we'll see. I hope so to see him around a while though because he's an impressive wrestler. Then our main event was a very big one. It was Christian, Jericho, and Tomko facing who? It was John Cena, HBK, and their partner, none other than Hulk Hogan. Hogan can't do anything anymore, but he still gets more crowd reactions than anyone. Gives me goosebumps to just watch the reactions he gets. "Youuuuuuuuuu!"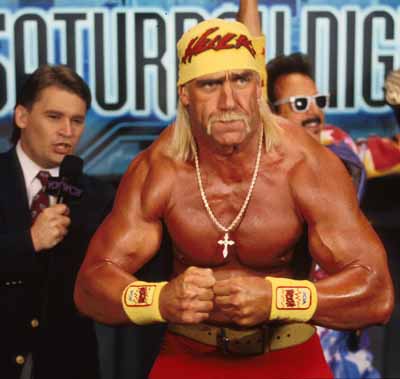 What CDs have I loaded up on recently? First we have the latest from R. Kelly and that is
TP. 3 Reloaded
. R. Kelly is as good as it gets when it comes to pimpin' music. I don't care how many little girls he's wizzed on in his spare time, I'm just judging him on his music and nobody is in his league if you ask me. A nice array of talent on this CD such as Snoop, The Game, Birdman, Twista, Nivea, Do Or Die, and some others. He gets it done big. You've all seen the video for
Trapped In The Closet, Chapter 1
. Curious to how the saga plays out? Whatever you're thinking, it's ten times more drama. The story keeps you hooked throughout all five songs. All five chapters are on this beast. A highly recommended album. Sorry, I spent a lot of time on R. Kelly, but look pimp up in the dictionary and you'll see him. Up next is Royce Da 5'9" with
Independent's Day
. How this guy hasn't made it mainstream yet, I have no clue. Check out some of his older stuff. You won't be disappointed. Then I loaded up with
United States of Atlanta
, from the Ying Yang Twins.
I can't forget out the greatest day of the entire year. Yes, that's right. It's the
NBA Draft
. This is what I gear up for and I'm happy with the results from Tuesday night. My Celtics' main pick is a high school phenom, Gerald Green, who fell to us at #18. How he fell that far, who knows. He was projected as high up as #3 on some mock drafts I saw. I'm excited about the pick though, hopefully it doesn't turn on me. Our late picks were Ryan Gomes of Providence at #50 and Orien Greene of Louisiana Lafayette at #53. Green and Greene to wear Celtic Green? Say it ain't so. I'll stop with
NBA
talk. I could write forever on that, but I'll spare you guys just this once.
3 Quick Thangs:
1. Download
Put My T-Shirt On
from R. Kelly.
2. I swear, late at night,
MTV
shows the exact same videos in the exact same order. It's been like this for a few weeks. I need to write down the songs just to prove it. It's messed up. Give me something different. I'm only here for videos since
BET
goes to preaching at 4:00 AM.
3.
Febreeze
is one of the best inventions of all time.