Hola. Where have I been lately? I'm around, you know how it goes. Time to splurge a new blog on you for something to fill your days with to make it a little more exciting. Either that or you have nothing better to do as I always like to say in here. This is the first blog of November and we're getting closer and closer to Christmas time. Oh, there's Thanksgiving too? Apparently some people completely miss that holiday and skip straight to Christmas. As much as I love Christmas, we need to give Thanksgiving its due. Before that though, time to see what has been happening in the mean streets of my town, expect the unexpected.
It was time for yet another 5K race in town. This one was set up by the Super Strutters group where Alexis Huckles and Krissy (Anderson) McDougal, fellow class of 97 mates, meaning we're old. Only as old as you make yourself feel though and how you take care of yourself. The night before, I really wasn't sure if I was going to do this 5K. Then out of nowhere, I figured why not, wake up early and get this thing done. I go down there around 9:40 or so and there were flocks and flocks of people there. I wasn't sure I'd have enough time to register before things began at 10:00. Truthfully, I was the only one there at the time and wondered what was up. On the
Facebook
page, there were a good dozen or so people that said that yes, they would be there. That's how our town goes unfortunately. I'm the type of guy that likes to give my word to something. If I'm not going to be there, I'll let people know, but if I give a definite yes, count me in. Anyways, we had another runner show up and props to Sarah Cochran for coming out and supporting the cause. I know what you're thinking, only two people? Yep, but we both had to run that day anyways, so might as well get things done early and support a good cause. In the end, I can joke that I won my first ever 5K for whatever that's worth. Alexis and Krissy, keep everyone posted on the spring race and thanks for organizing everything. Also on Thanksgiving, gear up for the one and only
Turkey Trot
ran by Stacia and Jason Talkington. Word has it that there should be a really good turnout.
During the time I last wrote, Halloween was celebrated. I haven't dressed up in a while, but this was the year of the return. Before that, I did my yearly tradition of seeing my area of town become crazy populated on the streets for trick or treat. We had so many people show up at our place that you couldn't keep count, seriously. I know that seems hard to believe for out of area people when you think of my little town, but it's true and then some. After that, we had a big turnout at our house just to BS around, watch football, tell stories or whatever else went down. Pretty much our whole family was there along with Cork and Kristin. By the way, grape jelly meatballs are phenomenal.
After that action, it was late-nighting for a costume party. People gave us some ideas and Whitney and I decided we'd go as Snooki and The Situation. My "costume" was pretty easy to get dressed for. I already had a Situation shirt and the shades, plus I threw on a blinged out cross chain that Whitney had and it was go time. People say I look more like Vinny and I think so too, but my Aunt Linda and Kari had a classic thought on that. They said that if I went out as Vinny, since he's the most normal of the
Jersey Shore
guys if there is such a thing, then people wouldn't have a clue. So I went with the more exciting of the bunch and Kari had the running joke of calling me Sitch that night. Whitney had Snooki's stuff down to a tee, her side was more creative than mine. She put rinestones on her sunglasses, had the full Snooki wig even though she can pull off the Snooki look without it, the pink slippers, and a shirt we got at the beach, the I Love My Guido version. Surprisingly, where we went, we were the only ones that were
Shore
characters. I guess that shows the mentality we have watching that stuff, but you know I'm hooked to it like no other. A funny to us was that this girl from Jersey and her husband came up to us at the party and wanted to get pictures to show that we existed that night. I'm glad I can get people laughing a bit, we had a blast with our costumes.
Movie time. What will this review be on?
Just Wright
. We had wanted to see this one in the theaters, but never got around to it. Mix in Common, basketball, Queen Latifah, and it's a movie that was right up our alley. We both enjoyed this movie and I'd recommend it. The basketball scenes were fairly well done and featured a slew of actual
NBA
players such as my boy Rajon Rondo, Dwight Howard, Dwyane Wade, Rashard Lewis, Jalen Rose, Bobby Simmons and Elton Brand. You also had Marv Albert, Stu Scott, Mike Fratello, and Kenny "The Jet" Smith. On the actress side of things, notables were Phylicia Rashad and Pam Grier. It's somewhat predictable, but it still made for a good movie night in my books to go with popcorn and ice cream sundaes, yum. My final ranking is going to be 7.5 PCL injuries (what Common had in the movie) out of 10.
Here's one to make myself look like a goof, but I'm never above that for a good story in the blog. I left Whitney's on Monday night after watching wrestling, my usual schedule. Yes,
RAW
is my favorite thing to watch on TV all week, I kid you not, it's the dork in me I admit. I had planned to go for the midnight bash at
GameStop
and get
Call of Duty
that night. I was in such a coma that it didn't happen and I figured I'd be up the entire night before going to work in the morning. I was going to use Whitney's car to get the game since she needed gas anyways and it'd be easier that way. So I do the good deed of getting gas in her car and bring it back instead of heading up to the mall. I promise, this story will make sense here in a second, I'm getting into it..
Don't you hate waking up early in the morning before work and you have to either scrape your windows from all the ice or spray it down? Well, people that don't put their cars in a garage, you know what I mean. It's not a big deal to me, but it just saves a few minutes off your time so you can chill longer before work and not be crazy cold in the process. The option I have, and it's going to sound either primitive or stupid, is to get newspapers. Do what with those newspapers? Put them across your windshield before bed that night. When you wake up and go to work, take the newspapers off and like magic, no ice and you can just get your drive on. It's not for everyone, but it works. Well, as I was doing that to Whitney's car, I pull up her wipers to have it hold the paper. Bam, the wiper breaks off on me! Not good. Now what? Here I am at midnight trying to piece back a wiper blade where a bolt came off. Mix that in with me being one of the worst handy men as far as fixing things of that nature goes and it was a disaster. It's an easy task for most, but I admit that I can't even do a simple task of putting windshield wipers in the correct spot. The good thing? Whitney woke up the next morning and her windshield was as clear as can be. The wiper however, doh!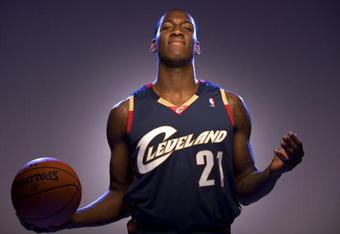 Fantasy basketball time! I've not commented on either of my drafts so far. I will now bore you into pieces on that and list my rosters for each bunch. First, I'll start out with the
EDDFL
that is going on 20+ years strong. Yes, you read that right. The 12-man cast of characters in this league are Riley, Spank, Cork, ManDingo, Sidelli, TJ, Mudcat, Fortney, Posey, Fleece, Ozzie, and myself. It is a straight style fantasy league with points, assists, and rebounds. We start 6 players per week, with one having to be a rookie. The next is
A#BA
, the league you hear me talk about a good bit that is our online keeper version. This one goes 20 deep and one of the most competitive leagues you will ever see. It's a 10-category league and is head-to-head.
E-Town Junkies (
EDDFL
)
1. Kevin Durant - Oklahoma City
2. Brook Lopez - New Jersey
3. Wes Johnson (Rookie) - Minnesota
4. Andrea Bargnani - Toronto
5. Andray Blatche - Washington
6. Joakim Noah - Chicago
7. JJ Hickson - Cleveland
8. Ty Thomas - Charlotte
9. Timofey Mozgov (Rookie) - New York
10. DJ Augustin - Charlotte
11. Marcus Camby - Portland
12. Andrei Kirilenko - Utah
13. Andris Biedrins - Golden State
14. Brendan Haywood - Dallas
15. Josh McRoberts - Indiana
Memphis Sounds (
A#BA
)
1. Carmelo Anthony - Denver
2. Dwyane Wade - Miami
3. Danny Granger - Indiana
4. Andre Iguodala - Philadelphia
5. Brandon Jennings - Milwaukee
6. Derrick Favors (Rookie) - New Jersey
7. Josh McRoberts - Indiana
8. Tiago Splitter (Rookie) - San Antonio
9. CJ Miles - Utah
10. Arron Afflalo - Denver
11. Jamario Moon - Cleveland
12. Nikola Pekovic (Rookie) - Minnesota
Busy week going down on my schedule, but one I'm excited for. Of course
Call of Duty: Black Ops
is released and I'll be sure to give reviews of that as I play it more. As of the first day of playing, I really like the graphics for one. The guns on this one, I'm a huge fan of so far and the gameplay, no issues on my end. It gets an early thumbs up on my side. There's only three days of work for me this week and I can't complain about my schedule with that ever. Thursday, Ric Flair is in the house! Not my house, but at our local
Wal-Mart
. I'll be there to fulfill one of my lifetime goals (yes, you can call it sad or whatever) in meeting him and hopefully getting my Flair belt signed. I'm not big on autographs as I've said before, but after meeting Larry Bird, Flair is definitely #2 on my "to-meet" list. Then Friday, it's off for the South Bend trip with Whitney to see my Irish take on Utah. Road trip! I can't see Notre Dame putting up a great fight, but I hope I'm proven wrong. Either way, I'm ecstatic for this week. Too much excitement in one week!
Time to talk about a few CDs I've recently listened to. The rap fans will want to know about this, the other 98% of the people reading this section, I'm probably talking to a wall anyways. I will entertain myself at least. Let's see what we have to talk about this time around, away we go..
Bun B:
Trill O.G.
: I'm a big fan of this one. Bun's style of rap has been one that you know what you're getting. He's kept his setup the exact same since he's started out. You won't get any mainstream club rap here or something that is just made to be catchy for a month only to die. If you're a rap enthusiast, this is for you. I can't just leave you hanging without telling you what songs are good on this bad boy.
Trillionaire
,
Countin' Money
,
Ridin' Slow
, and
All A Dream
are all worthy listens. Go get em.
Young Buck:
Rehab
. A former member of G-Unit, Buck is still around and doing his thing. I figured this album would be more bashings towards 50 Cent and the boys, but it doesn't feature any of that, which makes it even better because you get straight up rap minus the BS. The weird thing, through all of this "beef", he's still technically under their label, just not a main portion of it. What to get out of this one?
This Is Mine
,
Ya Betta Know It
,
Hood Documentary
, and
When The Rain Stops
. I liked Bun's album better, but enjoyed both.
3 Quick Thangs
:
1. If you had November 3rd in the Christmas lights pool, you are this year's winner. I saw my first house decorated with the works, already lit up on that date. This was in Bridgeport on the hill near
Go-Mart
for the locals. Crazy.
2. Thursday is Veterans Day in the US and Remembrance Day in the land of "Canadia" as the
Jersey Shore
guys would say. Be sure to go out of your way and send a message to a veteran, it'll be greatly appreciated by them, I promise you that. I know I couldn't do what they do and they get my full respect.
3. A few weird law facts from TheAnswer (
www.twitter.com/TheAnswer310
): "In Tennessee, it is against the law to drive a car while sleeping. Imagine that!.. Today we travel to Iowa where one armed piano players must play for free.. in Colorado if u let ur cat outdoors it has to have a tail light."
Bird's Video Moment of the Week
: Man on Bench time..