Saturday was the site of Kari and Matty Cakes' bash they had for the fam and our buddies. A good time to be had by all, we had the place packed. The setup of their house is great and I've always liked it, it's impressive. The food, I tore some of that stuff up like no other. How can you go wrong with a bunch of crazy Italians that bring over homemade food? You can't is the answer. The aunts and girls definitely did their thing on that end of the party. The talk of the night was my dad being out late, which rarely happens, so they made sure to prove it by getting some pics of him next to the clock at different times. Props to Maria for getting some great pics of the locals haven't seen on her
Facebook
yet. The hit seems to be the one with Maria, my dad, and BMO. Then at the end of the night, Ozzie had the foursome of my Uncle Bill, Uncle Jeff, BMO, and my dad to recreate their old summer league basketball team where they'd win it all on a regular basis.
Things started to get rowdy, which is always entertaining, you never know what to expect with our fam. My Uncle Bill joked that it felt weird for a few of us that weren't drinking. Hey Gayle, I'm not sure if we ever got a ruling for who won The Award at this party? We had some candidates for sure. Even Big Ashton got in on the action as I walked downstairs just as he was throwing up chunks of weinies all over the kitchen floor. You could hear the splattering, hah. Poor guy, but he toughed it out and made it through. Spank and myself hogged the TV room, which Cakes has it going on in that section of the house. Between the college football games, it was buzzing up there and I was away from the loudness downstairs a decent bit. Being around way loud commotion for a long period of time doesn't mix with me. Then, we found some
NBA
preseason on that night and the rest of the house didn't know how to take that. I think it ran most of the sports fans out as
NBA
in my area is basically nonexistent except for the guys in my fantasy league. For shame though, but we watched the Warriors take on the Suns in an outdoor game. They need more of that for sure. And on an added note, the Warriors are going to be a West Coast team I watch a lot of this year. Why? Two reasons, one is that they just run around like chickens with their heads cut off and have no rhyme or reason to their offense. The other is that they have a lot of headcases on the team and it can implode at any time.
You've heard me talk about the
Shinnston Flag Football League
for a while now. The season is getting towards playoff time and it's been nothing short of a blast. I'm still baffled by how many serious injuries this league has produced. Talent wise, this league is pretty legit. It has some of the area's finest athletes and I'm not being sarcastic when I say that. It's not that way at the moment, but my team had at one time the most college athletes on the team and we still can't do so hot. Either way, it's some good entertainment as I wait for pickup basketball season to begin shortly, that's where the real action is at. Anyways, has anyone in town picked up the latest
Brown & Gold News
? If you did, you'll get a nice chuckle at our league being featured.
What do I mean? Thanks to Commish Bart and the rest of us for working on the league website and message board, we're getting some local recognition. As I've said before, there must not be anything else happening in my area for this to get reported on, but we can't complain. Editor Jim Tichenor gave us two full pages and a lot of people in town have been asking about it. One page shows some pictures from the action on the field as well as snippets from the website. The other page shows the team photos that were taken on Opening Day. It's time for some cheap plugs, why not, that's what I do best. For the league's website, go to
http://sites.google.com/site/shinnstonflagfootballleague
. There's a ton of interesting things to check out there and we frankly have way too much time on our hands. Also, if you are out of the area and didn't get to see the paper, I threw in a few scans of that into our message board. If you're reading this, you have plenty of time to burn, so why not get in there and make some posts? You know you want to, anyone is welcome.
http://shinnstonflagleague.proboards.com

Most people know that I'm way too hooked on wrestling. I'm not afraid to admit, so be it. I always say that it's a soap opera for dudes anyways and I like what I like. If you remember the Philly trip when I went to the
ECW Arena
show in June (best road trip evarrrr), you read about me being in the Mexican section of South Philly and buying a lucha libre mask. I like to collect odds and ends like that, plus I figured I'd run around the streets of Philly with it on. The looks I got from people were enough from me so I had to get some pics. I'm never above making myself look like a goofball to have some fun. Anyways, Cali Jas (who you will see more of later on as she submitted this week's video) made a trip to Mexico not too long ago. While down there, she was joking that she was going to buy me a legit lucha mask from Mexico City.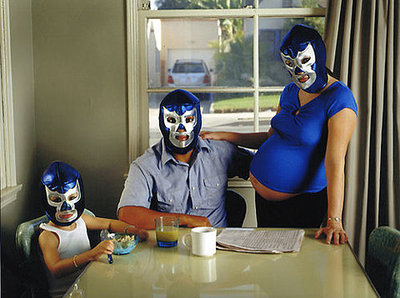 In the mail on Tuesday, it arrived. She was able to nab a Mexican colored special Rey Mysterio mask. The material is nice and gives me and my buddies something to joke around with, showing that we need better things to do. If you're a true wrestling fan though, you know that it's a part of tradition and a big honor to the Mexican wrestling community to what the meaning of a mask is. A lot up here think of it as a joke sometimes, but down there, lucha libre is practically religion and I respect it. We'd also like to send a belated Happy 21st out to Cali Jas as she did it up huge, Vegas style for the celebration. Hey Jas, a huge week for our sports teams. My Yanks get to battle your Angels starting on Friday and the same goes for Saturday when my Irish get to face your USC Trojans. I don't mind your teams, but I can't root for ya this week, sorry, hah. Also, in the letter ya sent with the mask, tell your buddy I got a good laugh at her thinking I was only 18 years old in the picture sent to your phone. I'll take what I can get because I'm sure the hair will fall out soon and I'll have a full head of gray, but neither has started yet, so thanks to that. Either way, just wanted to send the thanks out there to ya and make it known, even though I've already talked to ya about it. Much appreciated!
If you're a TV person, you've seen these new
T-Mobile
commercials. It's on every 5 seconds, so it's kind of tough to miss. Have you seen who all is in this commercial for the
My Touch 3G
phone they are marketing? Who are they trying to sell with this one? It's a bunch of old people in this commercial. Call me crazy and I know a lot of people of that generation are getting better with technology, but I can't see a whole lot of older people using a touch phone. Not using, let alone even wanting. I know that we're all hooked with our touch phones, but I don't get the connection that
T-Mobile
is trying to branch out to. I think it would be much more successful if they had some current celebrities to be on the commercials. Phil Jackson, Chevy Chase, and Whoopi Goldberg to name a few? Really? I will give them one thing about it though, the Cat Stevens song they use on it is catchy. I could see that hooking some people, but I just don't understand the people they used in it.
Oh yes, it's becoming my favorite time of the year. I'll try not to knock it into your head too much, but
NBA
season is in the very near future. I've already been watching a good bit of preseason ball and last Sunday we had our local fantasy
NBA
league's draft lottery. I've been running this league now for a good 20 years (no lie, since I was 10) and it's a great setup that has our crew with so much competition with each other that we've become obsessed with it to scary ends. Still, we could be hooked on much much worse. The
E-Town Diaper Dandies Fantasy League
(
EDDFL
) is ready to rock with a 12-man ensemble. A week before our draft, we get our pick selection down by a draw of cards and make a festivity of it. The tradition lately has been to hold that at the local Chinese spot. We even put
YouTube
vids up of this year's extravaganza. More on the actual draft in the next blog, we draft this coming Sunday, but I'll ramble one more paragraph on the lotto itself.
First off, this is the same group we've had now for several years. The twelve we have and I'll just go by order of the lottery outcome: Ozzie with the first pick, then myself, Cork, Flee, Mudcat, TJ, Spank, Sidelli, Fortdog, ManDingo, Posey, and Riley. Ozzie had been on a string of getting the last pick for several years, so we made it a rule that he couldn't get it this year. We were all joking that it would've been funny if he landed the 11th pick, but he lucked out and is high on life by having the chance to start off the draft with a stud. Riley says that Ozzie's fantasy numbers will fall now that he's recently married. I'll probably go more in depth with the league's setup during the next blog when I talk about the live draft festivities. I've been doing this league by hand the entire time. I have some guys on a waiting list, but anymore than 12 right now is an insane amount of work. It already is, but I love doing it, so I keep marching through.
Maybe it's just me, but what's the whole fascination with people claiming to see UFOs and things like that?
Yahoo
had an article today on the front of how there was a big halo over Moscow. This has people in a craze wondering what it was. "When the cloud initially formed, some UFO enthusiasts declared it to be a true mystery. Some even compared it to the giant spaceship hovering over Earth in the movie Independence Day." Really now? These people are on some good stuff. Then a report comes out saying it was an illusion and it was the sun shining through clouds. Hey Arizona Jas, you're out there near Area 51 and probably hear enough of that garbage on a daily basis. I just don't understand some people's reasoning. Until little green martians are running around, the people into this are just a bunch of crazy people living in their own little world apart from the rest of us. Or maybe I'm the crazy one for not believing in that.
You eat many weird foods? I randomly will send a message to someone and ask if they have any blog topics to ramble on and on about. Arizona Jas (both Cali and Arizona in the same blog, the madness in here!) asked me what I thought of corned beef hash? I guess that's what it's called? I've never had the stuff before believe it or not. Then we got onto different things and brains came up. I've tried both cow brains and squirrel brains. Cow brains aren't bad at all actually. Not that I've had them much, but you know. My 99-year old neighbor who I call an aunt rocks out the stuff like that. I tried both of those through her suggestions back in the day. Liver I haven't done though. Frog legs would be a yes. They taste a bit like chicken, but it's WAY salty. Like insane salt on those, at least the time I tried. I'd probably try most foods at least once, but can't guarantee a second time.
Here's a few new CDs for you to check out if you're bored for some tunes. Of course, as almost always, it's rap related as you could've guessed. Let's see what presents we have wrapped up this week..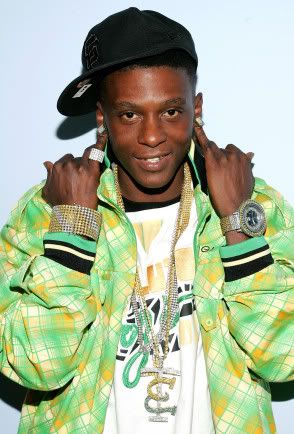 Lil Boosie:
Superbad
. Hey Jodine, you get to hang with this guy when you move to New Orleans soon. This guy is 25 and looks about 14. He's been around for a bit, but if you're unfamiliar, to me he sounds like a mix of Crucial Conflict and Juvenile. I'm a fan for sure, plus he's funny. The song out now that you've heard is
Better Believe It
with Young Jeezy and Boosie's boy Webbie. Some recommendations here would be
My Avenue
, a weird mix with Bobby V that is called
Who Can Love U
but it works well, another that is out now is
Loose As A Goose
, and lastly go get
Miss Kissin' On You
that has Trina. This is pretty good in my mind, better than the next CD I'm about to review.
Mack 10:
Soft White
. Mack is back with his 9th album. This isn't as hard as old Mack 10 stuff, so that disappointed me a bit. It's not bad though. It doesn't live up to many of the other big rap CDs of 2009, but it's worth a listen. Maybe since I'm biased towards his stuff anyways I'm going to automatically like it to an extent. I was bummed that neither Ice Cube nor WC was on this CD. My favorite track on this would be
It's Your Life
with Anthony Hamilton. Hamilton is so underrated and mix him with Mack 10 and you have something hot. Others to check out are
Big Ball
with Birdman and Glasses Malone, and
Dedication
.
Bird's Dirty of the Week
: We're going to San Marcos, Texas for this week's girl. She's a 21 year old blonde. She comes to us with 13 different folders of pics. In those folders you get the traditional dirty Halloween pics, party pics, being drunk pics, and even a lingerie party. Pretty hot actually, I'll give her that, even if I normally prefer dark hair. What does she have to say on all of this? Let's speak to her and find out: "hey yall... names savannah :) (and just in case you're wondering...no im not from georgia and yes it is my real name lol) basically im a junior at txstate just trying to finish out my last year... i work at a really fun place called Bikinis sports bar and grill.. its a lot of fun and if you haven't visited it yet you need to lol!!" Bikinis. There ya go.
http://www.myspace.com/savannaheddy
Bird's Video Moment of the Week
: This week's vid is sent in to us by a long time blog reader and frequent contributor. That would be Cali Jas, who approved last week's blog with a good comment. Due to that, she's found a good one that we're going to use. If you know much on Jon Lajoie, you know he's somewhat of an internet legend with some of his videos. Dude is creative and this one I'm a big fan of. I'm not sure what is my favorite "character" of his in this vid. Would it be MC Fatigue? Chorus Guy? MC Lethal Weapon 4? Who's your pick? Again, props go out to Cali Jas. Keep sending in the vids people, we'll consider it.
div style="padding:5px 0; text-align:center; width:480px;">
3 Quick Thangs
:
1. Since we had some huge birthdays last week, let's try it again. Thursday, October 15th. Can it compare to last? We'll see.. We start out with Penny Marshall of
Laverne and Shirley
fame and big time Clippers fan, 67, dang. Baseballer Jim Palmer, 64. Tito Jackson of the Jackson 5, 56. Maybe I've done these birthdays before? It seems like I have in years past somewhere. Tanya Roberts of
Charlie's Angels
and on those horrible commercials nowadays, 54. Emeril cooks it up for his 50th. Hottie Vanessa Marcil, 41, whoa. I wouldn't have guessed that age at all. For basketball fans, we'd like to wish Fred "The Mayor" Hoiberg a happy 37th. A solid group there, it can compete with last week's list, but it doesn't win.. Also, a very special blog birthday is going out for October 15th as well. We go allll the way to Yellowknife in Canada to wish Carolina, a long time loyal blog fan, a Happy 30th!
2. A few facts you may or may not know.. Crocodiles can't stick out their tongues.. Dueling is legal in Paraguay as long as both parties are registered blood donors.. You are more likely to be killed by a champagne cork than a poisonous spider.
3. Rev Run has some pretty good tweets if you haven't seen before. Just some good daily living advice. Here's a few to end the blog with from Run: "Good morn! Take action 2day!! The poorest ones aren't those without a cent, but those who WONT work!" "The biggest mistake u can make is to keep worrying about the ones u've made! Get up! Go fwd! Be happy!" "Give it all u've got everyday. That alone will destroy worry!"
http://twitter.com/RevRunWisdom