You just can't go wrong with dating shows. These shows are so cheesy and you don't want to watch, but if you sit down and actually watch them, you're hooked. Take for example a new one from
MTV
. It's called
Next
and I wasn't interested in it at first. Then before I know it, I'm watching like 2 hours straight of this mess. The theme of this show has 5 people that get a chance to go out with a girl or guy. At any time during the date, the person picking between the 5 can say "next" and move to the next person. How many ever minutes that person lasts, is how many dollars they get once they get booted. If the person that gets to pick wants to go on a second date, they ask the person. Then the person gets to pick whether they want to go on a second date or take their money and run. My favorite one is of this whitey rapper named Iziadi. I know I spelled that name wrong, but deal with it. He had the pimp cane and all and when he was asked questions, he would rap the answers. Hilarious. They have to make up some of these guys on these shows. I'm telling you, it's great.
I'm not going in any certain order in this post, but that's the fun of things. You know what bugs me? High school softball. I just don't get it. If you have an awesome pitcher, you win. They can throw their best chick whenever they want till her arm falls off. Nobody ever makes a big deal of this. Why can't they have an actual pitching rotation like guys do? You also see no-hitter games all over the place in softball too. If one of these pitchers gets 1 run in support, it's over. You can close the door on it.
Cork's girl, and what is turning into everyone else's girl as of late is in the news. Yep, none other than the gorgeous Vida Guerra, with one of the best bodies I've ever seen. I think they lock these type of girls up in closets and only use them in rap videos, because I've never seen them out and about on the streets. Then again, Shinnston girls for the most part are trashy, but who knows. I'm sure it's like that in most towns, but at least in other towns you have the element of surprise by not knowing the background of a chick, so she doesn't seem as dirty. You follow me so far? Anyways, the l33t hack0rz got into her phone and posted pics of what she had on there, showing it all if you still can't follow me. Needless to say, they're way better than expected. Thanks to Blahah The Great for finding this gem of information, he posted this for our viewing pleasure in Lobstah. To visit the actual topic, click here:
http://www.lobsterrodeo.com/balls/viewtopic.php?t=1808
Speaking of chicks, maybe you can help me on this one. While watching
MTV Next
(yep, that again) these guys were talking about waxing. This one dude had to get his legs waxed on a date and he was asking the chick about it. She says she only has to do it every 6 weeks. What?? I need to get in on that action. Forget this shaving every other day or so. Nair eats me up, so I can't use that. I don't mind shaving, but if I can try waxing, even if it hurts bad to do, it'd be quality times. Then I could use a classic Beavis line, "Damn I'm smooth!" A guy interested in waxing himself? So what. I admitted it. Now I just need details.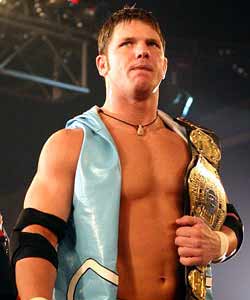 On the wrestling scene, I'll first touch on
NWA Total Nonstop Action
, or
NWA-TNA
if you will. Or as Dusty Rhodes, currently of
TNA
would say, "If you wiiiiiiiilllllll!" This company is getting better and better. They can't compete with Vince as far as money guys, nobody can at this point. Vince has the wrestling market monopolized, but this is as close as you can get to a competitor. If you get
Fox Sports Network
, you can check out their shows on Friday afternoon in the 3:00-5:00 PM timeslots, depending on where you roll. Saturday night features the replay, and for me, that would be at midnight. What I like about
NWA
is that their guys can try more dangerous moves that Vince doesn't want as part of his organization. These guys give it their all and could care less about getting hurt. There's a lot of known names here too: Jeff Jarrett, X-Pac, Jeff Hardy, Dusty Rhodes, Dustin Rhodes, Bad Ass Billy Gunn, Christopher Daniels, AJ Styles, Elix Skipper, Kevin Nash, Shane Douglas, Diamond Dallas Page, Kid Kash, and many others. For those who haven't seen Christopher Daniels or AJ Styles wrestle before, you can consider yourself deprived. Watching the weekly TNA show is worth it alone just to get glimpses of Daniels and Styles tearing the roof off the building. The
Styles Clash
is one of the most innovative finishing moves I've seen in quite some time. If you're into the cruiserweight (the
X-Division
) type wrestlers who go full speed with great wrestling, this is for you. It's raw, but they're not afraid to try stuff.
WWE
is releasing people left and right, so look for more talent to jump to the
NWA
.
How about
RAW
you ask? Before I talk about this week, next week is from
Madison Square Garden
, so that should be a hot hot show. An interesting part of
RAW
is that they showed part of Orton's shoulder surgery and actually show the needle going in and the footage inside the mess as they're working. Graphic, but I liked it. They don't do stuff like that often. Hurricane got some good TV time by bashing Triple H and then getting a match with him, along with Rosey. Give Hurricane a new character or just ship him off to
TNA
so he can show what he has. Chris Masters is a freak and he's only 22 years old. HBK was set to face off with Muhammad Hussan, but Hassan sent Daivari at him instead. I've read before that Daivari is a wrestler, but he's ripped up pretty good himself and didn't make a fool out of himself. Of course, Hassan helps Daivari get the cheap win. Afterwards, HBK challenges Hassan and Daivari to a
Tag Match
at
No Mercy
. Who will his tag partner be? None other than Hulk Hogan. Benoit taking on Christian was very well done and they actually gave that one some time to develop. The end had Batista showing off his bad mic skills. HHH says next week at
MSG
, he'll face off with Good Ol' JR. Ok….
Another show that I'm big on is
Real World/Road Rules Challenge: The Inferno II
. This is on during
RAW
, so I never get to catch the first airing of the show. I always wait for a big marathon on a weekend night. This was last weekend and I stayed up all night watching with DerekHood of
#basketball
fame. The drama of this is off the charts. The only rule I don't like is that these people can't physically rumble or it would be much better. Gay Karamo would've had his head laying in a pool of blood by CT anyways if that was allowed. You can't go wrong with having CT, Big Bad Brad, and Mike The Miz all on the same show. Julie might be the ugliest Real World chick ever, it's close. She mangled her hair big time. Veronica on the other hand, knows how to do it.
3 Quick Thangs:
1. The movie
King's Ransom
looks cheesy, but I have a theory on it. You can't go wrong with a movie featuring Anthony Anderson (even if he is in every comedy out there) and Jay Mohr. Even better, we have Charlie Murphayyyyyy in this beast. As one chick says on the previews, "Like white girls on NBA playas."
2. As I type this, I have 28 of 100 people on my
AOL Instant Messenger
list online. I also have 18 of 179 on
Yahoo Messenger
, 7 of 52 on
MSN Messenger
, and 3 of 56 on
ICQ
. Fear.
3. I ate
Lucky Charms
for breakfast.