The first post of December. I'm here to bring about the usual Christmas cheer. I'm a big fan of Christmas and getting into the spirit, but I don't go overboard in doing it months ahead of time. Maybe I'm weird, but what's up with having a tree in the house before Thanksgiving or around that? I think I'll rock mine out later this week. We haven't busted out an artificial tree before, so we'll go as we always do, real tree style. It's a lot more work, but something about the smell and look of the real deal Holyfield is, as I like to say around here, quality.
Also, big ups to the crew who got back with me on the Christmas card list. If you're already in my address pile, more than likely you'll still be on this year unless you totally fell off the face of the Earth. Just like the blog, the Christmas card tradition with me goes worldwide. How so? We're sending to places such as Germany, way north in Canada where they have to plug in their cars to get em warm (what's up Carolina?), the West Coast of the US, and many other areas. You need to get in on the card sending trend. And no, it doesn't count if you just sign your name on the card and say Merry Christmas. Fill up that card, tell a quick story, something. It's all about the substance. Anyone can sign their name down. That's just how I look at things personally on that issue. I ramble on enough in my blogs, I do the same with the cards.
Everyone knows my sleep pattern is mangled, but over the weekend, even more so than usual. I try to make up for lost sleep by the time the weekend comes. That didn't happen this time around. I'll set the tone. I go to bed at 2:30 AM on Thursday night/Friday morning. I wake up at 6:00 AM for work. I get home from work that day around 3:00 PM and take a nap till 5:45 PM. I get up from the nap and I'm up all night...and all day Saturday. No clue why either, but I was just online most of that time, imagine that. Around 3:00 PM, I go to workout after no sleep. Somehow it turned out to be a decent workout. At 7:30 that night, right before the game where the mighty WVU fans thought was going to be a total joke against Pitt (more on this later), I sleep until 10:30 PM. So after being up for 26 hours, I crash for 3 hours and begin to rock it out more. I do things with my crew and that type of deal, but it's rough how much of that time I was online. Here's a quick idea of that. At one point, I was online for 12 straight hours and there was an 8 hour stretch where I didn't even get out of my seat. That's rough, but we do it big here.
Who wants the
Kid Nation
update? There's a mix of the blog readers who are big on this show and others who have given it a try and get nothing out of it. The kids get tired of the same food, so they decide to go out and kill 10 chickens. That's when pageant girl Taylor and her girls start throwing a fit. We've went this long into the season and Taylor hasn't been popped in the face yet by some other kid? We're overdue. She wants only the ugly chickens to be killed and they make a deal with her. Taylor doesn't work this week after saying she would last week. The crew wins the award and has to pick between a library or free arcade. They go with the arcade and tell Taylor she doesn't get it since she was worthless. The arcade is abused as people do that all day instead of work, so they put a lock on it until work is finished. Hunter Hearst Helmsley is given the gold star this time and wants to give his $20,000 to his dad since he lost his job a year ago. Good to see one of the non-rich kids get the win. This week, the council leaves for a bit and Sophia is named town sheriff. Could get interesting. Only a few more weeks left.
Oh, so it's downright drama you want?
Real World: Sydney
is the ticket for you. Been keeping up with that? I hope so because it's been amazing. At the beginning of the season, I thought it'd be brutal, but now we have action central. More Parisa and Trish drama. After Trish pushes Parisa, Parisa gets to decide whether to keep her in the house or send her packing. The house didn't think she'd actually do it, but she laid the hammer down and sent Trish packing and off the show. You should be able to bust people on these shows, you know it'd be better TV. This is the 3rd roomie that leaves so far this year. KellyAnne and Ashley are wanting to make the rest of Parisa's time hell. The work teams are splits up and Ashley is named leader of her team and Parisa is underneath her. Next week, Isaac comes back after flipping out over being an acid head. Ashley and Dunbar hook up this week?
Now it's time to mention the WVU game. I don't trash talk much to their football fans, so I'll let their choke job just speak for itself. However, mostly everyone around here all season is getting in faces and saying how they're god's gift and the greatest football team ever. It's like that every season, so I take that with a grain of salt anyways with those opinions. A good team, I gave them that all season. Their offense is fun to watch, but the best team in the nation? Come on now. So the last game of their regular season, they play some bums in Pitt. Felisha is about the only one who had any hope here, a diehard Pitt fan that is a fellow blog supporter, I gotta hand it to her. Beat those bums and they're in the national title game, easy as that. A 30-point favorite and they get rocked straight up. People were already booking flights to New Orleans and all of that jazz. Like that pun? Now people are crying and all is good in my world. I know, the comeback is that my Irish aren't in WVU's league this year. I never said they were, my boys are one of the worst in the entire country, but at least the pointless bragging will end this year in my area. In a serious note with WVU, why didn't they run Slaton much that game? I don't understand that one bit. They wrote him off halfway into the season and took his carries away.
Bird's Dirty Thug Ho
:
http://www.myspace.com/missbadmami
Bird's Video Moment of the Week
: Jas gets credit for finding this Christmas tune. I kinda dig it, would be better uncensored, but you do what ya can. It's not bust out loud funny, but it's pretty good. Can't go wrong with the old people in it either.
http://www.youtube.com/watch?v=54sDzkyhx_Q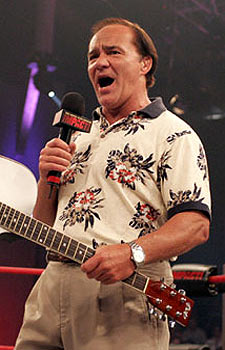 3 Quick Thangs
:
1. Let's try some birthdays for Wednesday, December 5th. Starting things out would be former
NFL
quarterback Jim Plunkett, 60. The Living Legend, wrestler Larry Zbyszko, he's now 54. One of the all time great
NFL
wide receivers, Art Monk, he's doing the big 5-0. All in the sporting world there and we have a short list. I wish I could give more, but this is how things go.
2.
Heisman Trophy
this Saturday? This is a tough one. I feel that Tebow will get it. Who would I pick? I'd vote in either Darren McFadden of Arkansas or how about Colt Brennan of Hawaii?
3. You know what is underrated? Hot news anchor chicks. My area has some good ones and we're in the middle of nowhere. Big city anchors, that's worth bringing home.