How you people been doing lately? If it's anything like me, you've been doing pretty awesome. Summer is right around the corner and I'm less than a month from being a total bum for two months. Waking up at noon or later everyday, check. Being up till the wee hours online and playing video games, check. The good part about that is that I'll be getting paid to do those things in the summer, not too shabby. Until then, we have May to get going as we're already through the first full week of the month. I'd also like to send a big Mother's Day wish out to all the moms doing their thing. In this blog we get Corndog's wise words, stupid commercials, softball, an encounter with a guy getting fired up at a gas station, Rihanna gets naked, bachelor party, the infamous Jim Cornette video from
Dairy Queen
, and MUCH more. And away we go!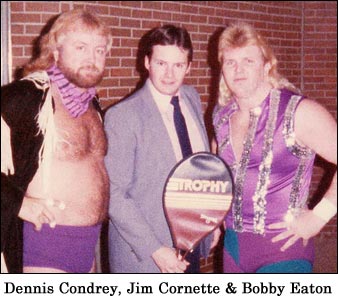 We haven't put up any unscheduled Corndog chats into the blog in a while, so the fans are overdue. I was sitting at home on Monday night doing my usual. I was watching the Celtics game, gearing up for
WWE Monday Night RAW
, and being online way too much. Anyways, Corndog was doing the eating thing at
Bob Evans
and wanted to let me know what was happening. If you haven't figured me out by now, you know I love random things that are different, yet entertaining. This one was some phone messages he'd send through
Yahoo Messenger
.
Corndog Bob Evans cell texts
Corndog: Feasting at bob evans!
Me: Crepes?
Corndog: Eggs sausage potatoes biscuits strawberry banana stuffed pancakes fatty!
Bird33: Whoa.. you're not messing around.
Corndog: Haha i told the girl i wanted more then the regular meal. Needed the strawberry and banana added and that i wasnt playin around.
Me: Those pancakes sound awesome.
Corndog: Oh yeah last time i was here they were out of season so i have been looking forward to them
Corndog: I bought gears of war 2 and mlb 2k9 tonight
Me: Dang, loading up there. Big food and video game night for ya.
Corndog: Yeah the corndog is all about himself tonight Haha
Corndog: I rethought the corndog liddell thing. I think im gonna change my fighting name to the niceman chub liddell
Corndog: I worked at this bob evans when it opened ten years ago. Some of the same people are still here
Me: Dang, that's great, hah. Never knew you did Bob Evans before.
corndogtaylor: Ive done it all! Bob evans state road sporting goods switchboard at the hospital delivered drugs wal mart buggy boy
Corndog: They messed up the flapjacks. Brought out blueberry
I was doing the TV thing and came across a new commercial. No, it wasn't one that is exciting, but it did make me think. It was a commercial for the new
Range Rover
rides. Apparently you can have these things for JUST an $800 a month payment. First off, not many people in my area are going to be stupid enough to pay $800 a month on a car payment unless they have so much money that they don't know what to do with it. To tie into that, they show the commercial and they take the
Range Rover
through mud, rootin' like crazy in some big hole and it comes out a mess. Come on, you can't fool us like that. Nobody that drives around in a rich boy
Range Rover
is going to take that thing and junk it up like that. It's not some 1985
Ford
with tires as big as your house. Honestly though, when have you ever seen a
Range Rover
go ripping through the area and coming back a mess? The answer? Never.
How'd softball go this past week for
Dyno Nobel
? We had games on Wednesday and Thursday. Wednesday we got pounded with rain, so it was canceled and we didn't have to drive up. Thursday rolls around and we have a 6:00 war about to go down. Unfortunately, the trashpiles we were about to play, only one guy bothered to show up. You kidding me? I drove 45 minutes to get a forfeit win? 1-1 on the season. We did get to practice for an hour and get our reps in. 7:00 rolls around and another team is scheduled to play the same team we did at 6:00. That time, about 4 of their players were there. What we ended up doing was scrimmaging the team that actually showed up and dusted them, so hopefully that's a sign of wins coming our way, but you never know. Nothing too noteworthy to mention on the games, so I won't get into that this week, but a good story from my way home when I got gas..
I stopped in Fairmont on my way home to the luxurious
Go-Mart
. I needed to fill my $800 a month
Range Rover
up in gas (or some other sort of car) and get some junk food. While waiting in line, this dude was half tanked and was going on a rampage. I didn't get what was going on at first, so of course I wanted to listen in. This guy wanted a certain kind of lottery ticket. One side of the registers told him to go on the other side to get those tickets, to which he did. He was mad at that point that they even moved him because he said you should be able to get those tickets on either side. He goes to the other side and I'm right behind him at this point. He tells that register guy the exact type of tickets he wants and starts going off on the other guy for sending him there. Well, they didn't have the particular tickets he wanted anyways and he started cussing like a madman. He kept turning around and complaining to me about it just to vent to someone, so I had to work him up more and just agreed with his whining for no other reason, telling him to let em know what he really thinks about it. He was already doing that, but I wanted to entertain myself even more. After blowing up some more, he ended up stomping out of there like a tough guy and the workers were saying that he needs to get a job and all of that and not worry about lottery tickets. I guess that was my excitement for the night in this small hole of an area I live in.
For the past few weeks, my laptop has sounded like it was about to blow up in a major way. For a bit, I didn't think anything of it and just let it ride out. After hearing that sound for far too long and cleaning out the fan a bit that was making the noise, it was still going down. I've heard people say forever to get a laptop cooler in case the thing overheats. I finally gave in and figured I'd get a nice one to see what the fuss was all about and if it would change anything. I ended up getting the
Evercool All Aluminum Royal Widescreen Cooler
. This thing has no sound to it and it's so easy to use, very quiet. You put one end into a USB port on the laptop and the other end to the USB port on the cooler. Flip the switch to on and that's it. Within minutes, my laptop was cooled down and I haven't turned it off since. If you've thought about getting one of these, I recommend this bad boy. Plus it looks pretty good too if that counts to you visual people.
Felisha sends this one in to us. I hadn't heard about the story until she threw it at me. Apparently, Rihanna is going to sue now that naked pics of her have been released. They came from her phone is the story and the phone may have been stolen? It doesn't surprise me really, but it's still always fun to see celebs in news like this. In the end, we are the ones who win. Plus, she has nothing to be ashamed of. Anyways, if you're bored to check out some of these pics, I'm here for your hookup. Like Rihanna or not, you'd be lying if you read this section and didn't actually click the link:
http://www.imagehaven.net/gallery/J2BDTYQ3X6R8PF6GZGB597K6QXN05T
Saturday night it was time for Ozzie's bachelor party. As usual with bachelor parties, it's sort of like Vegas, you really don't tell people any of the stories or aren't supposed to. Well, I have nothing to reveal anyways, so I'll give my part of the night. We had a group of about 30 guys and hit up
Buffalo Wild Wings
at 6:30. As far as TV that night, we had quite the selection. It was the Nuggs/Mavs thriller when we got there, followed by LeBron being a freak of nature, along with some old boxing, the race that I didn't care about, and the Penguins game. It was a blast being with the boys and just BSing around, that doesn't ever get old. One complaint though up there is that it's way too crowded, loud and hot. We were dripping wet and I had to get another shower when I got home. And this was just to go out and eat? Other than that, I didn't have any complaints. The chick quality up there wasn't anything too special for anyone keeping track at home, but you'll have that, neither was the service. My Uncle Bill joked that people couldn't get drunk if they tried because it was an hour before a waiter would come back and check on you.
One thing that did surprise me and that was the hockey game. Not that I cared one bit about it, but it seemed like every hockey fan in Harrison County came to
BDubs
that night. When the Pens would score a goal, the roof would come off the place. When I go farther north, you see a lot of hockey fans, but not usually in my area. This night, it was insane. It got to the point that our crew, who are huge sports guys, but not one bit for hockey, came up with an idea. When the Pens would score, our bunch would just scream and yell with them just because it was the thing to do. When 11:00 rolled around, that's when I tapped out and decided to go home. As far as the drunken debauchery and tearing up the town of Clarksburg with girls running around like Rihanna half naked until the daylight hours, who knows what went down. You'll have to check with those guys on those stories. About a month until Ozzie's wedding, should be good times for all.
Bird's Dirty Thug Ho of the Week
: This section hits all nationalities, we don't play favorites around here. The criteria is tricky though, it varies. One week, we have a filthy girl who has no reason putting up pics of herself, but we end up laughing about. Another week it may be a girl of actual quality that even the girls are checking out and get impressed with. A normal piece of criteria is that they normally have a lot of pics to go through. This week's edition is to hit up some asian flavor and she does have a lot of pics to go with the body. She even plays video games. Nothing amazing, but more good than not I think.
http://www.myspace.com/mzalisa
Bird's Video Moment of the Week
: Everyone knows I'm a wrestling freak and always will be. Hey, I could be hooked to worse. Anyways, this video will appeal to everyone, a wrestling fan or not and I almost guarantee you'll watch it multiple times. If you've seen my latest dorky pics on
MySpace
and
Facebook
, you'll see me with some new wrestling merchandise. This one courtesy of
The Midnight Express and Jim Cornette 25th Anniversary Scrapbook
which you can get at
jimcornette.com
. For a wrestling fan, it's a must have. Plus I was one of the losers who was one to order one of the 250 collector's edition versions of the book, personally signed to me by Corny himself as well as the three members of the MX. Anyways, this has been on the blog before I'm sure, but it never ever gets old. This is Cornette at a
Dairy Queen
drive-thru and he goes absolutely bananas as the window girl. They had $30 worth of food ordered and I guess they didn't believe his order. It wasn't ready when they pulled up and it all went down on a cussing tirade that has me in tears when I watch, so hopefully you enjoy it too. I wouldn't crank the speakers around a big group since he cusses like Tony Montana:
3 Quick Thangs
:
1. Breaking news from Kasher, although only a handful of people out there are probably big on these movies as I am. What would that be? On November 5, 2010, they are in works for a new
Harold & Kumar
flick. The first (
White Castle
) was one of my favorite movie ever, with the second (
Guantanamo Bay
) being fairly good itself. Now what do we have?
A Very Harold & Kumar Christmas
. I've never tried weed in my life, but there's something about the stoner movies that I've always been a fan of. I guess it's the pointless comedy with no purpose. If it's a dumb comedy, people that know me will tell you, I'm in to watch that for sure.
2. Cheesy joke time of the week, this one courtesy of Hannah who sent this one in, dogging my boy Obama. "They said a black man would be president when pigs flew. Obama has had 100 days in the office and swine flu." Come on, that had to get a little laugh out of you just because of the cheese factor.
3. We might as well have 3 reader submissions in for our bottom part this week. This last one comes to us from The_Freak. He was on
Craigslist
, killing some time and came across this ad for a
2003 Cadillac Escalade
. It goes through the details of the ride and what it includes. It also says "no history of accident". Hmm.. Look at the pics down below the description. This thing's front end looks like they jumped it off of a building. Yet, there's no history of accident? Here's the link:
http://newyork.craigslist.org/stn/cto/1151354821.html
. The_Freak's comment to this?
The_Freak (2:12:56 AM): No history of accident -- then what the fuck happened?