Middle of the week post here. Did everybody have a good
President's Day
? Does anyone actually celebrate this day? I guess some stores have big sales or whatever, but I'm happy simply because I got the day off work to give me a 3-day weekend. I can handle that. How'd the weekend go? It was filled with all kinds of sports action, so that's never a bad time. I'll touch on that and we'll figure what else to mention in here as the time goes.
This past weekend was
NBA All Star Weekend
from Denver. Friday night features one of my favorite parts of the weekend, the
Rookie Challenge
. The Rookies started out winning this thing at halftime and then LeBron and Company stopped fooling around and dusted the young guys in the 2nd half. There seemed to be more defense in this one than in past years, not bad. Saturday night was what it was all about though. We had the
3 Point Shootout
and
Dunk Contest
. On those, I got lucky and picked both winners correctly, Quentin Richardson and Josh Smith. Josh Smith might not be human with some of those dunks. Unfortunately, he was the only one who showed up in that contest as the other guys were pretty lame. JR Smith had a few mean ones, but nothing other than that. Birdman is a complete joke with his 37 retries and Amare's dunks weren't good, it was Nash who really brought the originality for him. Just please bring back the old rules and get the stud dunkers out there. I want to see Vince take on Josh Smith. Or LeBron, Kobe, JRich, Desmond Mason, Stevie Franchise, whoever. Are they scared? The All Star Game on Sunday I can say I never get crazy pumped up for it. I did see the 2nd half after wrestling was off (more on that later), but I'm cracking up at what the
NBA
did for their halftime show. Why bring in redneck country music people to an
NBA
event? Why didn't they bring in rappers to the
Daytona 500
this weekend? I think they screwed up on who was supposed to perform where.
Sunday night it was Pay Per View Night, so of course I was thrilled to gear up for the action. How'd I do on my predictions from
WWE No Mercy
? Not perfect this time, but close enough. I went 5-1 during this show, with my loser being in the
Cruiserweight Title Match
. I went with Paul London and Chavito ended up with the belt. Overall the PPV wasn't that good though. The opening match was real nice with Eddie and Rey working the tag reigns well. Then the next hour was rough to handle. Angle and Cena saved it though, as I mark out big for any Angle match. The main event, although it wasn't really a
Barbed Wire Match
(just was wrapped around the top of the cage) was well put together. The wrestling wasn't good, but both wrestlers bled like pigs and the ending was very good I thought. Big Show gives a
Chokeslam
to JBL through the ring. They rigged that setup well. Big Show busted through the door and jumped to the ground. He thought he had the title, but lo and behold, JBL rolled from under the ring to the outside. Vince loves him some JBL, wow. I like the character though. I never did at first. He has something like the longest title reign in 10 years or something ricockulous like that.
A little video game note before I bore you with some
RAW
talk. On the
XBox
front, that deal was too good to be true. I thought I had an
XBox
for $50, but that's how it goes. I do have a quality setup in my room now to where I have a new cabinet with doors for my video games. I have all of my systems inside and the TV on top. It saves a lot of space and looks much better, so we tried that for the hangout upstairs in my part of the house. Also, as I clean out some of my junk (I have a problem for keeping everything), I'm finally going to get rid of a lot of my old wrestling tapes. I just don't have enough room for my tapes. I have an entire back room in my house of nothing but wrestling tapes. Yes, I'm an idiot. This is going to almost make me cry. This will be like getting rid of my baseball cards (something I'm not sure I could ever do). Don't fear though. I'm holding onto a good portion of my stuff and all of my
ECW
stuff for sure.
Two things worth mentioning from
RAW
since I've already taken up enough space on wrestling. I can never talk too much wrestling, but I do want to keep the loyal fans still reading, so I'll hold back on that passion. First, HBK sends word through
SmackDown
GM Teddy "Holla" Long that he wants to challenge Kurt Angle at
Mania
. Dream match there, sweet. Then our end to the show had Batista make his decision to whether he wanted to go for the
WWE Title
and face Bradshaw and Cena in a
Triple Threat Match
or go for the
World Title
and take out fellow
Evolution
member Triple H. After hearing Triple H talk behind his back, he opted to go for Triple H, thus ending his days as an
Evolution
member. What'd JR think of Batista signing the contract to face HHH?
Oh! Batista! Folks, my God, Batista gave the thumbs down to the World's Champion! Evolution's animal! My God! Ohhhh! What a big Powerbomb through the table to the World's Champion! The World's Champion through the table! Well the deal is done! The untamed spirit of the animal known as Batista has made his decision! Batista will stay on RAW! And Batista will go to WrestleMania 21! The deal is set in granite! Batista will come for the World Title against The Game and it's gonna happen at WrestleMania 21!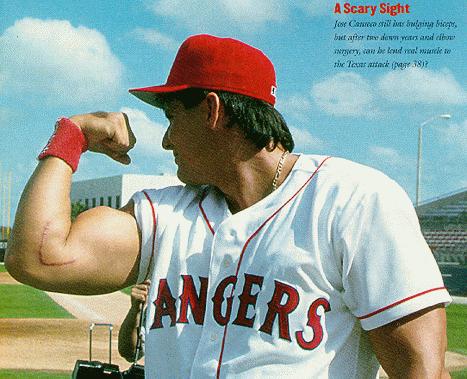 I picked up the Jose Canseco book yesterday, called
Juiced
. I just started going through it today and already through about 10 pages, it's some crazy information. Canseco actually tells you how to inject certain roids into your body, which roids are the most serious, etc. And this is just the beginning of the book. I find it funny that he said he'd do a lie detector test on Pay Per View. I know people look at him as an idiot, but I've always liked the guy and I'll stick with him.
Real World
this week? It basically focused around MJ and his chick back at home, Ashley. There was big happenings and they had a rumble while one of MJ's football boys stopped over. She gets home and they talk on the phone. She says she's tired of having her phone calls taped since he's on the Real World. She has something to tell him, but can't. He says he doesn't want to wait till he gets home. Then he says it's all or nothing. She pretty much ends it right there. Of course since he's whipped, he calls her the first thing in the morning and is begging, but it doesn't work. Oh! Shut down! Next week looks nice though. Sarah flips out like she always does since she can't control herself and Big Willie Style of all people tells her how it is. Should be decent. Not many weeks left.
Three very quick things..
1. I like thug movies as much as the next dude, but nobody possibly wants to see
Diary Of A Mad Black Woman
.
2. Shh…. Fantasy baseball is just around the corner. I can barely contain myself.
3. I laugh at the Paris Hilton cell phone stuff, but she's still an anorexic dirty who doesn't do much for me. The end.