I'm typing up the first part of this at work. I come in to work every morning and have literally 2 hours and 10 minutes before my first class. So, I use my bum time well. I'm organized, so I have most of my plans ready to go by the time I'm here anyways for my classes. So I use it to be an internet junkie. I do that when I get home too, oh well.
The plan tomorrow (it's late Friday night as I type this part) is to hit up the
Tally Rally
(
Italian Heritage Festival
) with Cork for some great food and then go watch
The Transporter 2
in the afternoon before he works. I'm pumped up big to see this movie and hopefully it's nearly as good as the first one was. Then later that night, Notre Dame takes on Pitt. Why I didn't get tickets to this one? I don't know. They sold like crazy though and it would've been expensive. Always a tough schedule for my boys, but I think we'll have a nice year under Charlie Weis' new regime. Ironic how my Irish are taking on a former Chicago Bears coach (my
NFL
team) in Dave Wannstedt. But for this week, I'll be rooting against Wanny and his porno mustache.
I'm almost to the playoffs in my first
Madden
season of the '06 version. Right now off the top of my head, typing this from work, I'm 10-3 going into Week 15. My last game I had 9 sacks with Urlacher. He's a beast in this game, for real. I'm not much of a zone type player, so I'll take my chances with rushing the QB every time and trying to take their heads off with the
Hit Stick
. I hurt at least one player a game and most of those times I mess the QB up good. I like playing defense a lot better than offense on this one. As far as playing a real life person, I've had this problem for years on the newer systems. I usually get my brains beat in by Cork and Spank. Not sure what gives. I feel like I'm a good player, not an expert, but I shouldn't get handed on a plate most times I play a real person. Go figure. Old school
Tecmo Bowl
it's a different story, the greatest video game of all time.
For the locals, I just got back from the
Jackson's Mill Jubilee
or whatever they call it nowadays. I was bored and went with my parents for this action. I expected it to be your typical redneck West Virginia carnival. That wasn't it at all, so I was excited it wasn't dirty like that. It's not a carnival and doesn't have rides. It's out in the country and the food is awesome. They have
Civil War
re-enactments and things of the like, but they also have some old school cooking places set up all around this huge area. Funnel cakes, kettle corn, apple butter, jelly, and a ton of other things. I loaded up on a rib eye steak sandwich with hot peppers and cheese. It rocked, was from an Italian family close to my hometown, so I knew that'd be good. Then after that, I hit up a fritti. Or if you're not with the Italian vernacular there, it's fried bread and they do it big. They have a dough presser and flatten it out and then throw it into a real hot tub of grease and once it's out, they crank sugar on it. That alone was worth the trip. I can't wait for the food at the
Tally Rally
though.
I forgot a big thing last time in the
Blog
. Most people won't care, but I didn't talk any about
Monday Night RAW
. I won't give a big review, just a few thoughts. The segment with Carlito and HBK was very well done to set up the main event
Tag Match
with HBK and Flair teaming up (two of my all time favorites) against Carlito and Masters, up and comers. The
Street Fight
with Hardy and Edge was awesome in my opinion. This one surpassed the SummerSlam meeting easily I thought. And the good thing is that
RAW
gave them time for a long match. The end saw both men go off the stage into the power supply area. Angle and Cena had a nice war of words too. I am loving the new edge they have given Angle the past few weeks. He's going to straight up make Cena a much better wrestler by the time this feud is over. "I won an Olympic gold medal with a broken freakin' neck!" That gets me every single time. The main event had Flair come out all bloody after being attacked earlier in the show. He was put in the Master Lock and faded out. HBK, Angle, Flair, Benoit.. These guys know how to elevate the younger generation, nice to see. Next week we do get the
Master Lock Challenge
with HBK.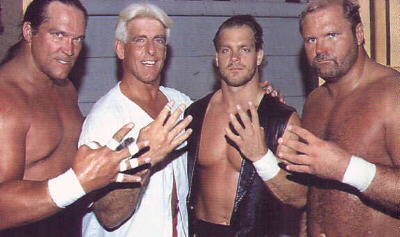 Two CDs this time around for your pleasure. The first is Kanye West's newest,
Late Registration
. The second is from Kurupt and called
Against The Grain
. The Kurupt CD isn't anything spectacular, but I love the appearance by The Dayton Family on this one. As far as Kanye's, I'll paste what I wrote in Lobstah (
http://lobsterrodeo.com/balls
) to my reaction:
Kanye weigh-in here.. Wow.. I'm not sure I'd go horrible after just one listen, but it's nothing I'm going to hype up by any means. What happened to the pissed Kanye who talked about stuff on the streets and what happened to him rapping about making it big time? This one is more pimpin' R&B music than normal Kanye stuff, he doesn't come hard at all. Hopefully I'm wrong on this, because I like some of his stuff, but he's much better being a beat guy in my opinion than rapping if he's doing this new style. And I won't get in a big argument, but he can't hold Timbaland's jock in beats. And I won't even throw Dre into the mix since he's a god. Kanye is talented, don't get me wrong, but I'm just a bit let down after one listen through.
Watched
Taxi
at school and I was surprised with it. I never was a Fallon guy at all, but my boys told me that I should still watch it anyways because it's hilarious. Was worth the watched, I enjoyed it. Queen Latifah is an underrated actress. She did it big.
3 Quick Thangs:
1. Today's birthdays?
NBA
legendary coach Dick Motta is 74, former footballers Ernest Givens gives salute to the
Electric Slide
celebration by turning 41, Charlie Sheen is 40, Luis Gonzalez of the DBacks is 38, and Damon Stoudamire of
NBA
fame is 32.
2. I ate Chinese yesterday for the first time in probably 3 or 4 weeks. For shame. I better get back into it.
3. 100 invites I have on
GMail
now, dang.