Welcome back to one that has been long awaited, but we've made it yet again. 18 days till Christmas and I haven't started shopping yet. However, I've written a TON of Christmas cards already and love doing that. It's not too late to get on the card list, so if you want some of my personal touches on a card, hit me up at bird33@gmail.com. Forget that sending a card and just signing a name on it stuff. That's boring. You know you want in on this action, so let me know.
The movie we watched last week at school was
Mr. & Mrs. Smith
. I didn't think this one would be good, but I was way wrong. One of my kids in class told me to get that one, so I took his word for it. I know I'm slacking, but I think this is the first Angelina Jolie movie I've seen. She's looking nice in this one of course. Great action in this one too, it's worth the watch. One of the better movies I've seen at "work" this year.
My boy Ric Flair is in all kinds of trouble, but he'll be ok. He gets arrested for having road rage on this dude. He grabbed his neck and kicked on the car, great stuff. My favorite part of the whole arrest is what this guy said that Flair told him: "had his tag number and should knock the shit out of him." Hah hah hah! Now that is some funny stuff indeed. Check out the writeup on
Smoking Gun
and the rough looking picture of Flair:
http://www.thesmokinggun.com/archive/1129051ric1.html
.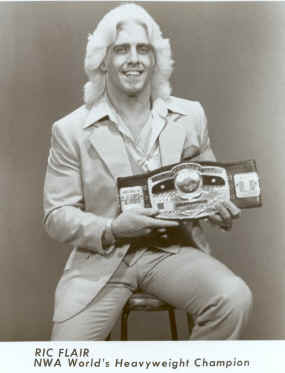 I talk too much wrestling in here, I know. But I'm going to do it again and have to for this thing I need to mention. I got a DVD that has been the talk of the internet as of late. It is from
Ring of Honor Wrestling
and it is
Joe vs. Kobashi
. Samoa Joe that is and one of the greatest matches I've ever seen. I'm not joking either fans. This match alone is worthy of getting this DVD and words can't do how good of a match this one is. Just trust me and spend the $20.
The_Freak came up with a possible idea we may use in future
Blogs
. As I was just kicking together some ideas, I said maybe I'd have him write a guest commentary. To that, he said I could extend it to other people as well. For the
#basketball
crew, here are the names of commentaries he thought of if those guys, or anyone else, would be interested:
The_Freak: "The Freak Show"
ManDingo: "Dingo's Diary"
Corndog: "Corndog's Cabana"
DerekHood: "DH's Hideout"
I like the ring of that and if they were down, they could name their little guest deals whatever they wished. It could be coming up soon, so be on the lookout for that in the near future to what my boys, and girls if they want, to speak their mind in this very space. If you're interested, as Teddy Long would say, "Holla, Holla, Holla!"
Let's go to the gridiron. My Irish are matching up with the Buckeyes of Ohio State in the
Fiesta Bowl
. My guys are the underdogs in this one, but I like my chances. I think we match up well against these guys and have a lot of time to prepare. My personal choice would've been to play Penn State as the fans of both of those teams are very deep in tradition. Not that Ohio State isn't, but give me that whitewash Penn State crowd when they all wear white and get rowdy. Then in the pro ranks, my Bears have won 8 in a row! Now they play local favorite Pittsburgh at
Heinz Field
. Stupid me had a chance a while back early in the season to get tickets for this one and I didn't go through on it. Doh! It should be nothing less than a slobberknocker.
Sweet, I just finished up another semester of my Masters classes. One more semester left for those bad boys if all goes right. 18 hours in the book. I just put the clamps down on a 14-page paper and rocked it out, so fear. That'll give me a month or more to relax and be a bum before my next set of classes start up.
We have a lot to talk about in the world of CDs. Let's get it poppin'
Chris Brown:
Chris Brown
. The 16-year old sensation is at it in the self-titled album. I liked this one a lot and this kid has some talent. Juelz Santana, Bow Wow, and Jermaine Dupri on this stuff.
Lil Boosie:
Bad Azz
. I enjoyed this one too. I compare this dude's voice as a cross between Lil Wayne and Bone Thugs. I have one with Lil Boosie and Webbie together called
Gangsta Musik
and this one picks up where that one left off. Boosie goes deep into his family with his raps and where he comes from. Sounds like an honest youngster.
Yukmouth & Ampichino Present:
AK47 - Soundtrack To The Streets
. I haven't checked this one out yet, but it's Bay Area and Yukmouth, so it can't be bad. I'm not sure what the deal is with Ampichino is yet, so I can't speak on him.
Yukmouth:
Million Dollar Mixtape
– 2 Disc Set. I've listened to Disc 1 and mixtapes are a nice freshener from the regular style of most albums. A nice selection of beats that Yuk works over on.
3 Quick Thangs:
1. Today… be quiet now and bow in respect… because it's the man's birthday. Larry Bird! He's 49 today. I'm not even going to mention any other birthdays today because his is the only one that matters today. The Basketball Jesus.
2. A song you need to check out if you haven't heard yet?
Georgia
by Field Mob, Ludacris, and Jamie Foxx. Nice video to go with this one too, but it's some high quality stuff. "We ain't playin' wit ya!" Field Mob is way underrated.
3. I have this kid in one of my classes who wears a size 15 ring. It's monstrous. I could put it around my waist. Well, not really, but you get the point.