Thanks to Cork Dizzle for picking today's Blog title.
Guess who's back, back again.. Bird is back, tell a friend. tell a friend, tell a friend, tell a friend..Yep, it's time to start a new week and we're into October. There will be a lot to dust off, so let's get to moving. I won't go in any certain order here, just to mess with your heads.
I'll start off with a movie I rented this weekend. I roll down to my local video store and pick up
BarberShop 2
. I was real big into the first one, so I figure with the same cast returning for the most part, this one couldn't be bad either. I've read a lot of mixed reviews on this one, but I myself loved it. I still prefer the first one, but this one is worth checking out and then some if you're into that type of thing. I would've watched anyways as Cube is one of my favorite rappers of all time, plus long haired Eve is quality times.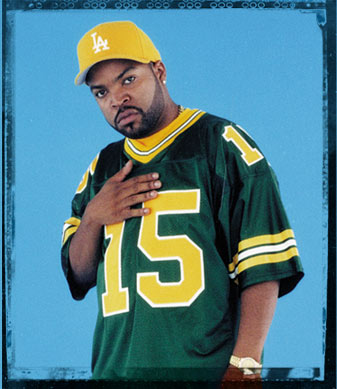 Saturday we had my Irish take on Purdue. This has been a rivalry for quite some time. Up until Saturday, Notre Dame had won 14 straight against Purdue in South Bend. This game was at South Bend and we got rocked. Funny thing is, Brady Quinn, our quarterback, throws for an insane amount of yards. He tosses up 430 like it's his job. No interceptions to go with that. Still, we get beat down hardcore by Heisman candidate Kyle "The Legend Killer" Orton, 41-16. That brings our record to 3-2, not great, but at least we beat Michigan so far. Ty Willingham plays his old boys Stanford, next week, in South Bend. I know I have no bragging rights with my Irish this year, but if one good thing came from Saturday, it was WVU losing to Virginia Tech. If they had a real quarterback, they'd be downright scary. Everything else seems to flow good, but it's tough going into a season when everyone and their brother is saying you're not going to lose.
Let us shift to the pro game. Da Bears! I can't be screaming that this week, as we lose, ugh. We're a whopping 1-3, but that's expected. I'm not giving any excuses, because Philly came into our house and got the job done. Philly is crazy good so far, but will they keep it up? We couldn't keep up with TO who celebrated by doing situps after one of his touchdowns to rub it in our face. Or as 50 would say, "I'll break yo faaaaace!" Next week we're guaranteed to not lose. Write it down folks. Yep, it's our off week, so fear.
I pity the fool who has no mercy! Yep, last night was
WWE's
latest Pay Per View,
No Mercy
, held in New Jersey. Going into the show, I expected a bad overall card and I didn't even give it much hype in my Blog for a preview. This was a
SmackDown
production and outside of reading results and watching
Velocit
y, I don't get to see many
SmackDown
highlights. Every other town in my area can pick up
UPN
, but not me. I can't even pick it up on the satellite either, go figure. That doesn't stop me from purchasing their PPVs though. What went down? I'm sure you're dying to know, right?
The opening match starts off with some Eddie Guerrero action. He didn't have much to work with as he was facing Luther Reigns. Nothing major with this one and Eddie wins with the Frog Splash. Eddie doesn't deserve to be fighting this guy right now. Or should I say this guy doesn't deserve to be fighting Eddie, because he can't hold a candle to Eddie's ability. Our next match was the
Cruiserweight Champion
Spike Dudley facing Nunzio, a.k.a. Little Guido. Nice to see the former
ECW
guys go at it and I'm always a fan of little guy wrestling as you get your money's worth. Or it's always funny to watch wrestlers who I've hung out with and ate pizza together. With the help of his "brothers", Spike retains his belt. A good, fast paced match and a good start to this card. If you want fast paced, that's what you get with the third bout of the night, Billy Kidman against his former buddy Paul London. These guys were doing some crazy flips and that's always a plus in my book. My kind of wrestling action there. Due to Kidman hurting Chavo Guerrero with the Shooting Star Press (one of my favorite moves of all time; think of a gainer off a diving board onto a person). This was made into a storyline of how Kidman didn't want to use the move anymore since he would hurt people. The fans then cheered for the move and he started "hearing things in his head" and acting all weird. Thus, during this match, Kidman blows up and hits a Shooting Star for the win and they put London on a stretcher (not legit hurt like Chavo was) and while London was on the stretcher, Kidman busted another picture perfect Star.
The match I was most looking forward to was next, as it was Rene Dupree and Kenzo Suzuki defending their
Tag Titles
against none other than Rob Van Dam and Rey Mysterio. Three lightning quick matches in a row? Say it ain't so! By that, I mean the pace of the match, not in that the match ended very quick. Dupree and Suzuki surprisingly remain the champs here in a great match. Next we have Kurt Angle and Big Show locking horns. What started this? Angle shot Show with a tranquilizer gun. Yes, you read that right. Only in wrestling. To get revenge, Show takes Angle out with a Top Rope Chokeslam. Our next one was the
US Title Match
of Booker T taking on John Cena in the 5th of the Best of 5 setup. Five Knuckle Shuffle! Cena grabs the gold to be the new man here in this division. Lots of matches huh? Our next to last battle was interesting. It was a
6-Person Tag Match
. Dudley Boys and Dawn Marie up against Charlie Haas, Rico, and Jackie. Dawn Marie is just unbelievable. The outfit she had on last night was working real good and in person she looks even better. Rico wins with a Moonsault in what was a nice match, but it was all about Dawn Marie in this one. Main event time, John Bradshaw Layfield putting up his
WWE Title
versus Undertaker in a
Last Ride Match
. What's that? To win, you have to shove your opponent in a hearse and have it drive off. Bradshaw wins with help from John Heidenreich. At the end of the show, Heidenreich takes an old school Ford Bronco and smashes into the hearse with Undertaker in it, but we all know he wasn't. What a SLOW match. I could've done without this match, but oh well. A very good Pay Per View for what I thought would be bad. Thumbs up here with the exception of the main event.
Over the weekend, I was watching some old school
Saturday Night Live
. They showed one from the glory years with the cast of Adam Sandler, Chris Farley, Norm MacDonald, David Spade, and others. Also, Snoop was the music guest and he looked really young. Nate Dogg, Kurupt, and Daz came along for the ride as backup rappers. That was kind of funny, but it was weird since Snoop had guitars jamming with him. To me, guitars and rap should have no part together. It doesn't mix.
Tonight I'll be awaiting the HBK/Christian match on
RAW
as well as whatever else goes down. Celtics Media Day today! That means that it's pretty much officially the opening of Training Camp. I'll be watching preseason games next week and can barely contain myself as I type that as I think of it. Other random things in my head? I'm watching the new N.O.R.E. video featuring Nina Sky. Those chicks definitely do it for me.. You know the drill now.
RAW
tonight,
Real World
tomorrow,
The Bachelor
on Wednesday.. Too much excitement for one guy to handle. I'm sure I'll manage though. Holla back.